June 27, 2004
St. Lucia Travels


It's hard to believe that it is almost July already! About one year ago I was packing up my life in Denver, having a yard sale and lugging boxes to the post office to send cross country! I think I have mentioned it before, but elapsed time is incredibly hard for me to judge down here. Because it is essentially always the same weather and I'm not familiar with the traditional annual markers of time, on any given day you could tell me it is February, June or November and it would take me a few seconds to determine the truth. So, the end of the school year in the states (although I cognitively knew it) came as quite an unbelievable event for me. The only reason that I know that Grenada's school year must be nearly done (July 9) is that I have that familiar "how many more days until the end" feeling that is common in any person who has worked in a school for a full school year. The first week or two after returning from the states were pretty hard for me. I was really hoping that my trip home would invigorate me for my work here and give me a refreshed purpose of my commitment to this. What I found instead was that I was pretty miserably homesick and aching for the things that I had back home. When I left last August I left as an idealist who was essentially oblivious to what hardships would be coming my way. I had a faint idea, but I didn't really know what would be frustrating, aggravating, annoying, difficult, impossible and unaffordable. Returning from the states, I found that I was all too aware of that list and was NOT looking forward to more than another year of those things. I was also feeling pretty frustrated and disillusioned with work. It seemed that as I got to know more and more about the complexities that were roadblocks to progress in special education it became more and more unattainable in my head.

It was with this mindset that I was scheduled to leave for St. Lucia to conduct a two day training on Autism with Angela, a PCV working with the Ministry of Education there. St. Lucia has made significant progress in the last 5 years in special education compared to the neighboring islands in the EC. In addition to special education schools, they have teachers in the majority of their regular primary schools called SENT (Special Education Needs Teachers) that address the needs of students with disabilities attending those primary schools. Because of these teachers, many students with severe learning disabilities, mental impairments and even autism are able to attend their neighborhood school instead of the segregated special education schools. In other words--INCLUSION! The ministry is dedicated to ongoing training for teachers in both settings and that is where I came in. The first day of my training was for the SENT teachers and the second day for the teachers at the exclusively special education schools. Angela, being a speech-language therapist, assisted me with the two days. Overall, the training went fantastic and I got to indulge my LOVE of talking and thinking about people living with autism. Our main complaint was that there was just too much information to be given in a one day format. In the evenings, Angela and I splurged a little and made delicious food (she's a fellow vegetarian) and had some great "girl bonding", something we had both said we were missing and in desperate need of. (If interested, you can check out her website here.)

At the end of the second day, Angela and I dragged our exhausted bodies to the busses and rode to the eastern side of the island to a village called Micoud where Matt and Kate (fellow PCV's from my group, who, incidently, unknowingly lived about 6 blocks from me in Denver!) live. We made pizza that night and had a great time catching up. The next morning (Sat.) we got up and met about 6 other volunteers and did a beautiful hike along the Atlantic coast. We went along jagged ridges, down to sandy beaches and across open plains. It was absolutely beautiful and ended with a relaxing afternoon at one of St. Lucia's beautiful beaches near the south of the island. On Sunday, the SENT teachers were having a fundraising boat ride which Angela and I eagerly attended. There were about 40 or so teachers, a few children, and lots of food on this boat. We cruised from Castries (the capital) down the western side of the island to Vieux Fort Bay where we got to disembark and do a little shopping and sightseeing. (Vieux Fort is the town where I had gone with JP and his host family way back when we were in training, so it was crazy to see it again with "different" eyes!). We also stopped at a beach on the way back and were treated to fresh coconut while swimming by some rasta selling them off his surfboard. Monday was a holiday, so we couldn't go far, but I did call Louisa, my homestay "mom" from St. Lucia. She and Kingsley drove over to Angela's to come for a visit and brought Linsley and Louann--the newest addition to the family.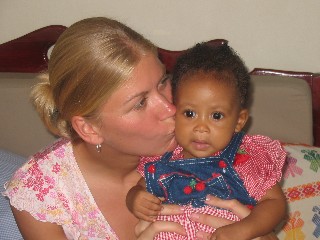 Louisa was pregnant with Louann when I was staying with her. What a joy to see her "in the flesh"!



Linsley was just as active as I remembered!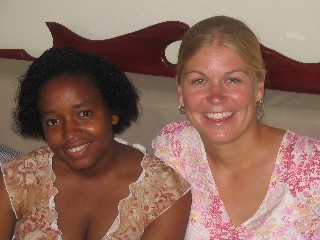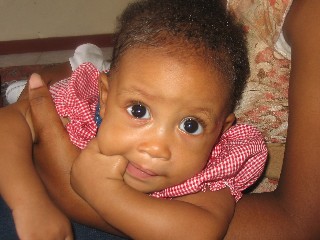 Early Tuesday morning, I boarded a plan back to Grenada. Despite my fears that I would come back still homesick and frustrated, I actually returned with that rejuvination and optimism that I had been looking for a few weeks earlier. That trip came at a great time for me as I really saw how the SENT program is working in St. Lucia and realistically saw how it might work here in Grenada. In addition to professional rejuviation, the much needed girl time with the volunteers from St. Lucia really revivied me personally. Every girl needs a trip to St. Lucia every once in a while, I guess!