Post-Ivan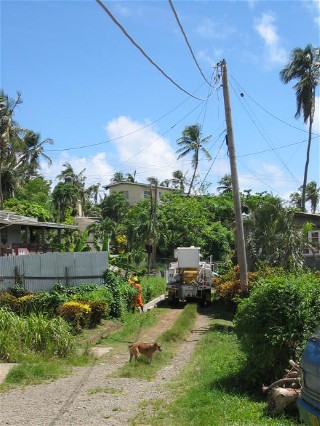 The glorious sight of the Grenlec truck coming to restore power to the area.
We finally got it 5 weeks post-Ivan, but some people are estimated to be without until January '05 at least.
No estimates yet on when our phones might be working again--cell phones have suddenly turned from annoyance to necessity.
Well, OK they're still annoying.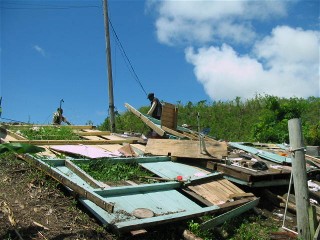 A number of us have been helping different organizations with rebuilding/repairing of homes.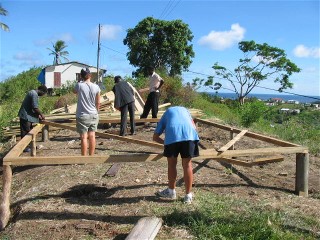 We are helping Scott build a new home above the ruins of his old one (picture above).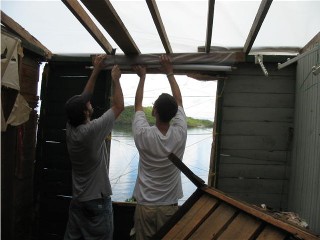 Another day we spent helping put tarps and plastic sheeting on roofs.
Here Joey and JP are creating a "plastic sheeting window" to keep out the rain
and some of the growing mosquito population.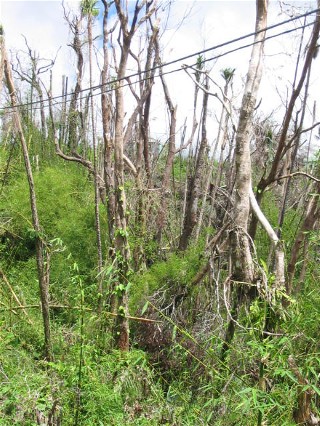 JP and I went to explore up in the Grand Etang (rain forest) this weekend.
In the background you can see faintly see the Grand Etang House--one of the structures in the National Park.
In the foreground of this picture is a piece of galvanized that was on the roof--it flew at least 200 ft.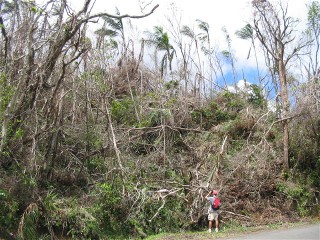 JP documenting the damage.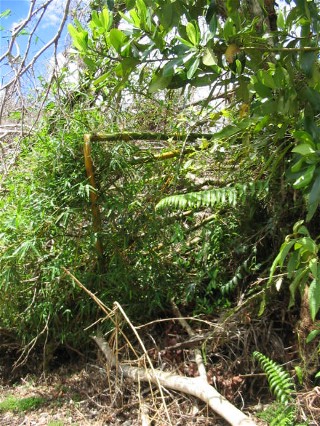 We were looking for the trailhead to Mt. Qua Qua--a nice hike that used to start right off the road.
After about 10 minutes of walking back and forth, JP spotted the sign--crushed under these trees.
Needless to say, we didn't get too far to Qua Qua--however, we did find one portion
(about 200 yds) of another trail that had been cleared (quite unsure of who did it though...).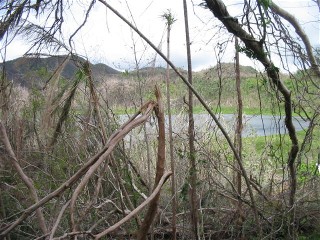 Grand Etang Lake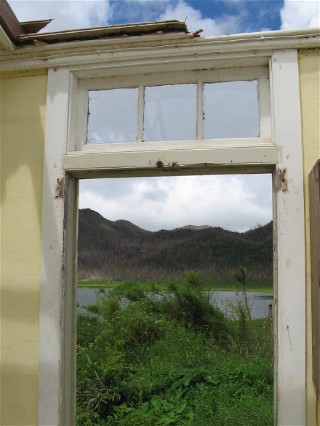 This was taken from the upstairs of the Grand Etang House--previously a well-taken care of structure.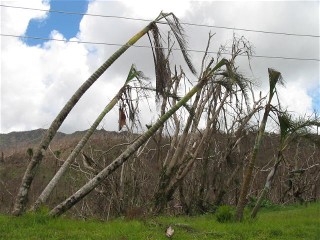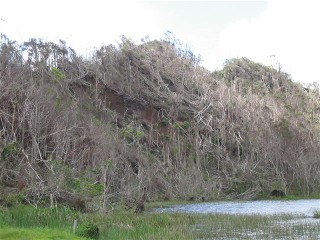 This used to be all lush, green rain forest.
To me, driving through this area is still really tough--while most of the island is already "greening up",
the rain forest is quite brown--a stark contrast to what it used to look like.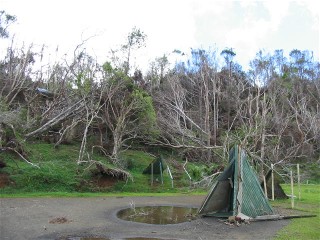 The green galvanized at the bottom used to be a gazebo in this picnic area by the lake.
Sadly, I think that these recreational spots will be one of the last things to get restored.